Our Story
History, Mission, Affiliates & Board
Gazing out of their church office window to a professional arts building across the way, two young pastors imagined a place where people could go to find healing and hope in a loving, professional atmosphere.  The two pastors, Dr. William Enright and Dr. Charles Alcorn, were serving the First Presbyterian Church of Glen Ellyn at the time. Their decision to pursue the idea in earnest came with their congregation's blessing and eventual formation of a "Living Mission Fund."  This fund and a subsequent endowment led to the Center's start-up.  Seven other local churches and parishes soon joined in support.
So in the fall of 1976, with a few pieces of hand-me-down furniture and a the use of an office in the basement of the First Congregational Church of Glen Ellyn, the Central DuPage Pastoral Counseling Center officially opened its doors. Dr. Charles Alcorn served as the Center's first executive director.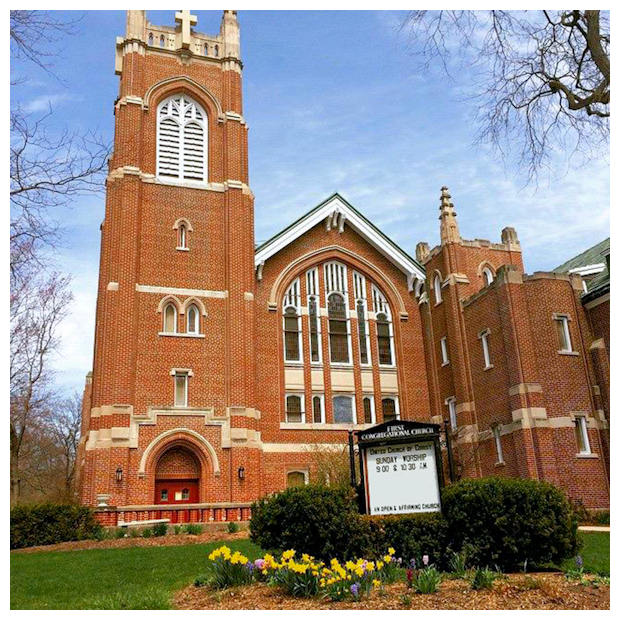 As our staff grew and the number of clients we served increased, additional office space became a critical need.  Our search was ended in 1992 when the First Presbyterian Church of Wheaton graciously offered to house our offices in their unused Manse. The Manse was a lovely, home-like setting that fit us well.  During our seven years there, we expanded our educational services with unique and creative programing while also growing our clinical services to include internships for student therapists.  Our affiliations with local churches also grew to include more than 25 Catholic and Protestant congregations. In 1999, we learned that the Manse was scheduled to be raised as part of a major expansion project by the church, generating the need once more for new office space.  When no suitable space materialized, the board and staff began to consider the only option left – to purchase a commercial property. With the aid and support of our affiliate churches and members of the community, we were able to purchase space in the Mona Kea office complex. In the spring of 1999, the Center moved into its first permanent home.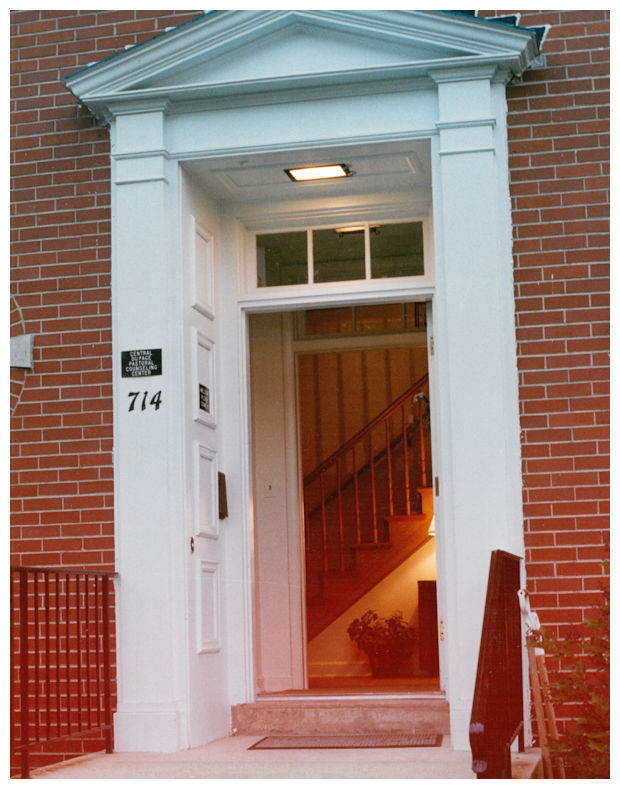 Now, years later, we look back on our relocation "crisis" as the blessing that helped secure our future. It was during this time that the Center's endowment was established through the DuPage Community Foundation, which continues to strengthen the Center and secure its future.
In 2006, after 30 years at the helm, Dr. Alcorn stepped down from his role as Executive Director to take up the challenge of growing the Center's endowment. Dr. James Natter, who served as the Center's Associate Director since 1992, was elected to the position of Executive Director and continues to serve in that capacity today.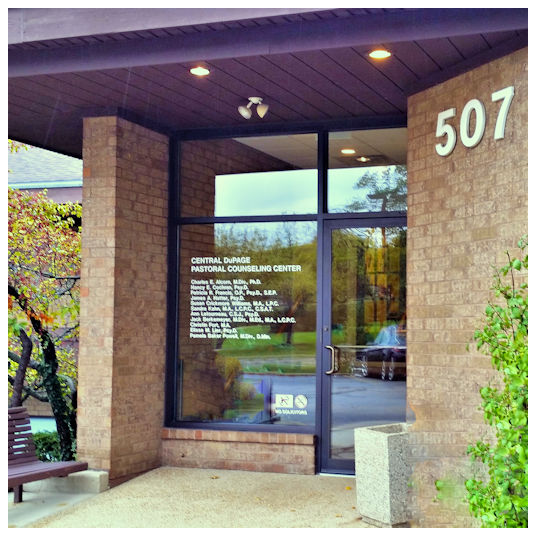 Our Mission:
Founded in Christian traditions, Central DuPage Pastoral Counseling Center welcomes everyone, inspires hope, and facilitates healing. Skilled, licensed therapists apply the perspectives of psychology, physiology, spirituality, and culture in providing integrated therapeutic care and educational services. 
  "For I know the plans I have for you," declares the Lord, "plans to prosper you and not to harm you, plans to give you hope and a future."
Jer 29:11

        Faith Lutheran Church
41 N. Park Blvd – Glen Ellyn
630-469-2361
    First Presbyterian Church of Glen Ellyn
550 N. Main St – Glen Ellyn
630-469-2007
    Gary United Methodist Church
224 N. Main St – Wheaton
630-668-3100
Grace Lutheran Church of Bensenville
950 S York Rd – Bensenville
630-766-3030
   Grace Lutheran Church of Glen Ellyn
493 Forest Ave – Glen Ellyn
630-469-1555
   Hope Presbyterian Church
1771 S. Wiesbrook Rd – Wheaton
630-668-7750
    St. Matthew United Church of Christ
1420 Gables Blvd – Wheaton
630-665-1236
St. Paul Lutheran Church
515 S. Wheaton Ave – Wheaton
630-668-5953
First Congregational Church of Glen Ellyn
535 Forest Ave – Glen Ellyn
630-469-3096
First Presbyterian Church of Wheaton
715 Carlton – Wheaton
630-668-5147
Glen Ellyn Evangelical Covenant Church
277 Hawthorne – Glen Ellyn
630-469-5405
Holy Cross Lutheran Church
802 E. Geneva Rd – Wheaton
630-665-1515
Peace Lutheran Church
21W500 Butterfield Rd – Lombard
630-627-1101 
St. Michael Catholic Church
310 S. Wheaton Ave – Wheaton
630-665-2250
St. Petronille Parish
420 Glenwood – Glen Ellyn
630-469-0404
Trinity Episcopal Church
130 N. West St – Wheaton
630-665-1101
Calvary Episcopal
105 West Maple – Lombard
630-620-8899
    Community Presbyterian Church
1111 E. Madison – Lombard
                         630-627-0306
   St. Isidore Parish
427 W. Army Trail Rd – Bloomingdale
630-529-3045
   St. John Lutheran Church
410 N. Cross St – Wheaton
630-668-0701
 St. Luke Evangelical Lutheran Church
23W080 Butterfield Rd – Glen Ellyn
630-469-5552
St. Paul Lutheran Church
515 S. Wheaton Ave – Wheaton
630-668-5953
Trinity Evangelical Lutheran Church
331 W. George St – West Chicago
630-231-1175
Christ Community Church
602 E. Geneva Rd – Wheaton
630-665-2259
Corpus Christi Catholic Church
1415 Lies Road – Carol Stream
630-483-4673 
St. Daniel the Prophet Church
101 West Loop Rd – Wheaton
630-682-5003
St. James the Apostle Catholic Church
480 S. Park Blvd – Glen Ellyn
630-469-7540
St. John the Baptist Roman Catholic Church
0S233 Church St – Winfield
630-668-0918
St. Mark's Episcopal Church
393 Main St – Glen Ellyn
630-858-1020
St. Petronille Parish
420 Glenwood – Glen Ellyn
630-469-0404
Trinity Evangelical Lutheran Church
331 W. George St – West Chicago
630-231-1175

Roger Lautz
Glen Ellyn Evangelical Church
Roger Lautz was born and raised in Japan where his parents served for many years as missionaries following WWII.  Following high school in Japan and college in the US, Roger has spent most of the last 42 years in the Wheaton, Illinois area. He has been in homebuilding since 1979 – a profession he pursued following an interesting summer as a construction intern. Roger and his wife have been active members of the Glen Ellyn Evangelical Covenant Church in Glen Ellyn, Illinois since 1983.

Michelle Matzke
Gary United Methodist Church, Wheaton 
Michelle represents Gary United Methodist Church in Wheaton where she and her husband have been members since 2011. Michelle serves on the Gary UMC Children's Ministry Team and leads the preK-K Sunday School class. She also helps out with the Youth Ministry Team her husband serves. Michelle is currently a senior project assistant for Training Systems, and Services Skill Center at UOP, a Honeywell Company. She has more 15 years of document control, learning management systems, account management, training and technical writing. She earned a BA in Anthropology from University of Illinois at Chicago and a MA in Secondary Education from National-Louis University. In her free time, she enjoys traveling, reading, bicycling, and making fun memories with her family.

Katie Retzner
St. Michael Catholic Church, Wheaton
Katie is a Wheaton resident and a parishioner at St. Michael Church.  Katie has an M.A. in Communications from Wheaton College, and a M.S.W. from Aurora University. She taught public speaking and writing for eight years at Benedictine University and then worked as a school social worker for six years for District 200. Katie is a licensed clinical social worker (LCSW) and currently works for Meier Clinics in Wheaton. Katie is involved in pastoral care, and with her husband, is a mentor through Bridge Communities. Her interests include travel, reading and theater.

Mickey Wendorf, Vice Chair & Treasurer
Faith Lutheran Church, Glen Ellyn
Mickey has been a member of Faith for 23 years.  She is active in the music program there and also serves as an assisting minister and a Stephen Ministry leader. As a CPA, Mickey taught accounting for several years at College of DuPage and retired after 15 years at DePaul University in 2012.  She also worked for Delta Mu Delta International Honor Society in Business as Director of Financial Operations and as Media Director, lending credibility to her claim of being "whole brained." Mickey also serves on the board of the Madison Street Theatre in Oak Park.

Donna Lapetina, Chair
First Presbyterian Church of Glen Ellyn
Donna has been a member of the First Presbyterian Church of Wheaton for many years where she has served as the Chairperson of the Human Resources Committee and member of a Pastoral Nominating Committee.  Donna is currently a Human Resources Manager at BP, and has previously worked as a consultant and held other senior human resource positions at other Fortune 500 companies.   She holds an MBA from Northern Illinois University, and a Bachelor's Degree in Business Administration from University of Iowa.  She enjoys assisting others, particularly disadvantaged people, and loves to garden, travel and spend time outdoors.

Phyllis Ludwig, Secretary
First Presbyterian Church of Glen Ellyn
Phyllis Ludwig was born and raised in Columbus, Ohio.  She graduated from Muskingum with a BS in Home Economics/Education and Ohio State University with a MA in Special Education.  Phyllis has been a public school teacher, grades K through 8; an editor for a Christian publisher; a Presbyterian Christian Education Director and an adult ESL instructor.  One of her favorite hobbies is teaching people to sew but she is currently writing stories, poems and memories for her family. Phyllis considers herself a life-long teacher and is passionate about her faith.  She delights in sharing her God-given personal gifts, economic blessing and psychological insights with others.  Participating on the CDPCC Board is a great avenue for reaching out and supporting the multi-faceted needs of those in her community.  She is very pleased to be called to join in furthering the ministry and mission of the CDPCC.

Debbie Ness
Hope Presbyterian Church, Wheaton

Deb has a Master's degree in social work and worked for about 7 years as a clinical social worker and as a medical social worker before obtaining a law degree.  She was employed by two law firms in Michigan and worked from 1988-2014 in the family law field and in the probate and estate planning field. During her working years as an attorney, she had clients who tried to deal with emotional pain by themselves without the benefit of help from a trained therapist. As a board member at CDPCC, she hopes to work in our community alongside the other board members of CDPCC to bring relief to those who suffer from emotional pain regardless of ability to pay.

Randy Roeing
Member-At-Large

Randy has lived in Wheaton for 25 years. He served on the Boards of CDPCC, from 1997 to 2007, and the B.R. Ryall YMCA of Northwestern DuPage County. For some 20 years he has volunteered at the DuPage County Convalescent Center to escort residents to Sunday-morning church services. He also held various leadership roles in the community, including a term as President of the Church Council at Holy Cross Lutheran Church. He has been happily married for 33 years and is the father of three adult daughters whom he delights in visiting. He has an MBA from DePaul University and is a Chartered Financial Analyst, currently employed as principal of a local Financial Advisory firm. Though an avid golfer, swimming has become his exercise of choice.

Charles Wilcox
Trinity Episcopal, Wheaton

Charles Wilcox enjoyed careers in commercial banking, financial, and risk management and hospitality management.  In addition, he served in the US Navy Reserve for 23 years (including five active during the Vietnam War), retiring as a Commander.  He has been an active member of Trinity Episcopal in Wheaton since 1979, serving on its vestry four times in numerous leadership roles.   He has served on the CDPCC board previously for about five years.
Married to Ruth Anne, with whom we have two daughters and four grandchildren, he is now retired and enjoying golf, walking, reading and traveling.

Affordable, compassionate care since 1976