Our Story
History, Mission, Affiliates & Board
Gazing out of their church office window to a professional arts building across the way, two young pastors imagined a place where people could go to find healing and hope in a loving, professional atmosphere.  The two pastors, Dr. William Enright and Dr. Charles Alcorn, were serving the First Presbyterian Church of Glen Ellyn at the time. Their decision to pursue the idea in earnest came with their congregation's blessing and eventual formation of a "Living Mission Fund."  This fund and a subsequent endowment led to the Center's start-up.  Seven other local churches and parishes soon joined in support.
So in the fall of 1976, with a few pieces of hand-me-down furniture and the use of an office in the basement of the First Congregational Church of Glen Ellyn, the Central DuPage Pastoral Counseling Center officially opened its doors. Dr. Charles Alcorn served as the Center's first executive director.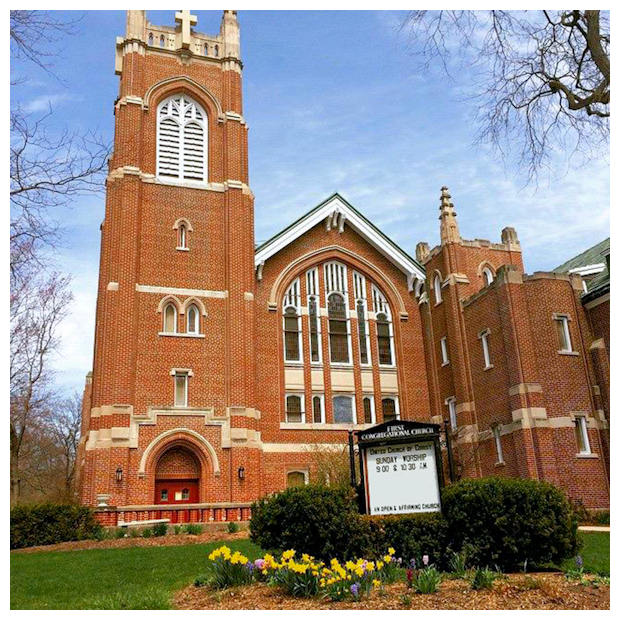 As our staff grew and the number of clients we served increased, additional office space became a critical need.  Our search was ended in 1992 when the First Presbyterian Church of Wheaton graciously offered to house our offices in their unused Manse. The Manse was a lovely, home-like setting that fit us well.  During our seven years there, we expanded our educational services with unique and creative programing while also growing our clinical services to include internships for student therapists. Our affiliations with local churches also grew to include more than 25 Catholic and Protestant congregations.
In 1999, we learned that the Manse was scheduled to be raised as part of a major expansion project by the church, generating the need once more for new office space.  When no suitable space materialized, the board and staff began to consider the only option left – to purchase a commercial property. With the aid and support of our affiliate churches and members of the community, we were able to purchase space in the Mona Kea office complex. In the spring of 1999, the Center moved into its first permanent home.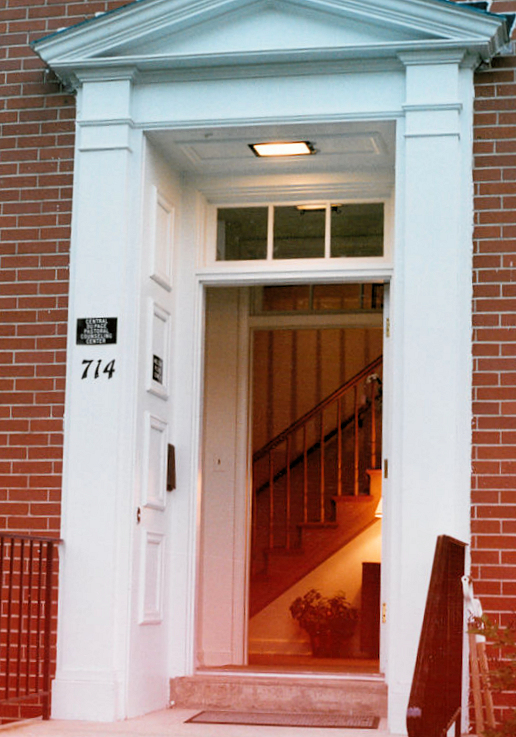 Now, years later, we look back on our relocation "crisis" as the blessing that helped secure our future. It was during this time that the Center's endowment was established through the DuPage Foundation, which continues to strengthen the Center and secure its future.
In 2006, after 30 years at the helm, Dr. Alcorn stepped down from his role as Executive Director to take up the challenge of growing the Center's endowment. He was followed by Dr. James Natter, who served as our second Executive Director until 2021 when he moved out of state. Today, the Center is in great hands under the leadership of Dr. Nancy Cochran, our current Executive Director.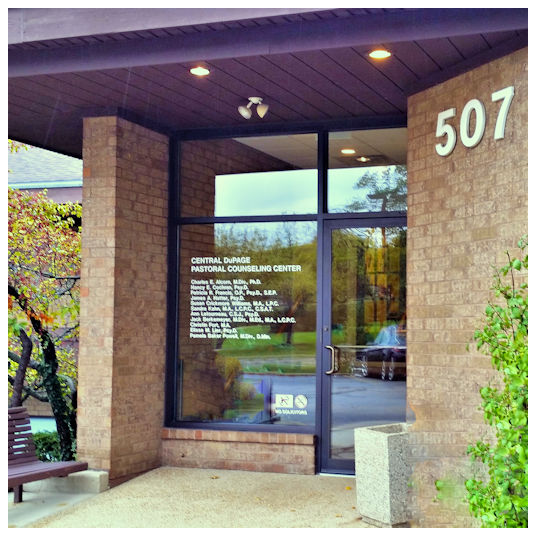 "For I know the plans I have for you," declares the Lord, "plans to prosper you and not to harm you, plans to give you hope and a future."
Jer 29:11

First Congregational Church of Glen Ellyn
535 Forest Ave – Glen Ellyn
630-469-3096
First Presbyterian Church of Wheaton
715 Carlton – Wheaton
630-668-5147
Glen Ellyn Evangelical Covenant Church
277 Hawthorne – Glen Ellyn
630-469-5405
Holy Cross Lutheran Church
802 E. Geneva Rd – Wheaton
630-665-1515
Peace Lutheran Church
21W500 Butterfield Rd – Lombard
630-627-1101 
St. Michael Catholic Church
310 S. Wheaton Ave – Wheaton
630-665-2250
St. Petronille Parish
420 Glenwood – Glen Ellyn
630-469-0404
Trinity Episcopal Church
130 N. West St – Wheaton
630-665-1101
Christ Community Church
602 E. Geneva Rd – Wheaton
630-665-2259
Corpus Christi Catholic Church
1415 Lies Road – Carol Stream
630-483-4673 
St. Daniel the Prophet Church
101 West Loop Rd – Wheaton
630-682-5003
St. James the Apostle Catholic Church
480 S. Park Blvd – Glen Ellyn
630-469-7540
St. John the Baptist Roman Catholic Church
0S233 Church St – Winfield
630-668-0918
St. Mark's Episcopal Church
393 Main St – Glen Ellyn
630-858-1020
Trinity Evangelical Lutheran Church
331 W. George St – West Chicago
630-231-1175

Patricia Boggs
Galena Bible Church
Bio coming soon.

Ann Flansburg
First Presbyterian Church, Wheaton
Ann has been a resident of Wheaton for 45 years. She has been involved with several non-profit organizations in DuPage County including We Grow Dreams, Midwest Shelter for Homeless Veterans, and Watts of Love. Ann has been a member of First Presbyterian Church of Wheaton for 34 years, where she has served as Deacon, Elder and Coordinator of the Caritas Ministry for over 10 years. 
Professionally, Ann worked for over 25 years at The Advertising Agency Group and currently works at the Glen Ellyn Chamber of Commerce.  She also enjoys time with  Fiona,  her therapy dog,  as they regularly visit at Wyndemere Senior Living Community and Hadley Middle School. She is passionate about the needs of accessibility for mental health services.

Richard Flansburg
First Presbyterian Church, Wheaton
Richard is a lifelong resident of the Wheaton/Glen Ellyn area. He graduated from Glenbard West High School and University of Tulsa where he majored in Journalism.
Professionally Rich, now retired, worked his entire career in advertising. He was an owner of The Advertising Agency Group, an agency specializing in financial services advertising, and Principal of 121 Marketing Resources, Inc., an advertising and marketing agency which he founded in 1990. Now he is a photographer specializing in street and fine art photography.
Rich worked with other CDPCC Board Members to create the traveling photography exhibit, "When My Other Normal Isn't Normal – Looking at mental health issues through photography." The exhibit travels to various churches throughout central DuPage County.
He and his wife, Ann, have two daughters and three grandchildren.  

Lora Schofield Ilhardt, Secretary
First Congregational Church, Glen Ellyn

Lora has been a member of First Congregational for over 25 years and is very active in the music programs there as a harpist, guitarist, and a member of the choir and the recorder group.  She majored in music at Middlebury College, but then completely changed direction and attended Harvard Law School to practice law. She has worked as an attorney at Chapman and Cutler in Chicago and also Sara Lee Corporation.
Lora lives with her husband in Glen Ellyn and has three grown sons and a daughter. She also works at the Glen Ellyn Walk-in Ministry.

Eric Peterson, President
First Presbyterian Church of Glen Ellyn
Erik has resided in the Glen Ellyn/Wheaton area since 1996. He brings extensive community leadership and business experience to CDPCC.  Erik is missions elder at the First Presbyterian Church of Glen Ellyn overseeing a 12-member missions council that actively supports over 22 local, national and international partners. In 2018, Erik co-founded One Community, a local non-profit focused on celebrating the rich diversity of people and cultures in DuPage county.
In addition, Eric has volunteered for many area civic and community service organizations including: DuPage PADS, Community Arts Partners, Glen Ellyn Infant Welfare Society, League of Women Voters, Children's Resource Center, and others.
Professionally, Erik founded a digital marketing design firm called Elumin in 2001, which served local businesses, non-profits and Christian organizations. In 2014 he took a leadership role as senior digital strategist at an international digital design agency, collaborating with staff across the world.

Eric Wulf, Treasurer
St. Mark's Episcopal Church, Glen Ellyn
Eric resides in Wheaton with his wife and two daughters. He grew up in the western suburbs of Chicago and graduated from the University of Iowa (BA) and Union University (MBA). He joined St. Mark's Episcopal Church in 2008 after previously serving as a member and deacon at Idlewild Presbyterian Church in Memphis, Tennessee. Professionally, Eric is the chief executive officer of International Carwash Association.

Affordable, compassionate care since 1976